NHL Fantasy Hockey Rumors: 5 Sleeper Picks for 2017-2018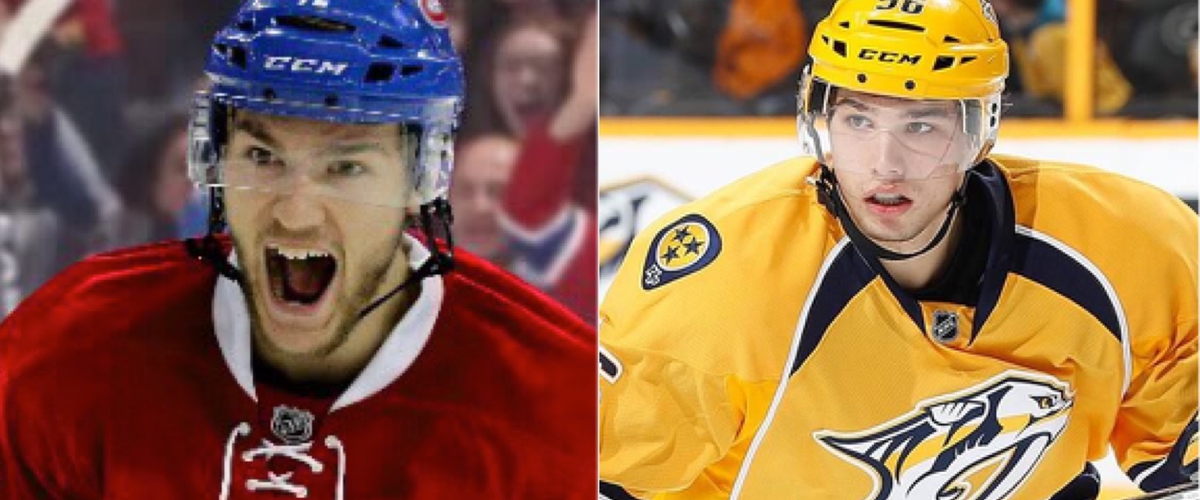 Here are the Fantasy Hockey Sleepers for the 2017-2018 NHL Season:
Name: Elias Lindholm | Age: 22 years
Salary: 2 years | $2.7M
Team: Carolina Hurricanes
Overview: The Carolina Hurricanes are on the rise to Stanley Cup contention and it's important to select the players who will help them get there. Sebastian Aho is obviously one of them, however Elias Lindholm is heavily sleep'd on. He had 45 points in 72 games last season, he really sky rocketed in the second half of the season. Now 34 of those points came from Assists which is something to note as he is considered to be a very good playmaker. In his first season (2013) his S% was 13.9% something he's never been able to exceed. Last season it was only 7.3% so look for that to improve and so will the Goals. He plays on the Top PP so he'll get tons of chances to make plays, and as long as his 18:11 min of TOI doesn't decrease he'll be a solid Fantasy Hockey option.
Projection: I'd project him to get anywhere between 50-60 points and around 40 assists. Take him as one of your last couple picks because he will be passed on a lot.
Name: Kevin Fiala | Age: 21 years
Salary: 2 years | $0.863M
Team: Nashville Predators
Overview: After a disappointing 2016-2017 NHL season getting injured in the Stanley Cup Playoffs, Kevin Fiala will be back for vengeance next season. He was a highly touted prospect being selected in the 1st round 11th overall. Everything worked out for this guy, and while he's small the guy's got speed and a knack for scoring. In 54 games last season he scored 11 goals and had 5 assists, this is considered his rookie year. For a 20 year old that is solid. Fiala is projected to play in the Top 6 alongside Nick Bonino and the Top Power-Play. I can't stress this enough at how talented this guy really is and with the departure of James Neal it only gets better for him. His minuted will be increased and so will his draft spot soon enough.
Projection: I project around 40 points with this guy scoring at least 20 goals. He's a solid waiver wire pick or even a last pick.
Name: Shea Theodore | Age: 21 years
Salary: 1 years | $0.863M
Team: Vegas Golden Knights
Overview: Shea was apart of a trade that sent him to the New NHL Expansion Team Vegas Golden Knights. He was traded after the Ducks tried to protect Josh Manson and Sami Vatanen. Most of you may not know Theodore but he is one of the good defensive prospects that have been coming out of Anaheim. He participated in 34 NHL games last season scoring 9 points and having 30 blocks as a rookie. While he was the subject of Top 6 minutes, he's proved he will improve into a solid Top 4 offensive defenseman. Now playing on the Knights where he is projected to play on the Top 2 with Brayden McNabb and on the Top Power-Play unit which features players like James Neal and Jonathan Marchessault.
Projection: I'd project Theodore to get anywhere between 20-30 points playing in 70+ games next season provided he will not get any long term injuries. I'd take him with my last pick possibly.
Name: Jacob Slavin | Age: 23 years
Salary: 1 years | $0.742M
Team: Carolina Hurricanes
Overview: Coming off signing a huge long term contract, Slavin is projected to make $5.3M in each of the next 7 years. This guy finally got paid at a discount. Some of you may say who the heck is this guy, well he is a Defenseman currently playing for the Canes. A team who i've said before is on the rise. He is 6'2" and can run a power-play. Slavin scored 34 points in 82 games last season which marks the end of only his 2nd season in the NHL. Not bad for a 2 year pro. Playing over 23 min a game Jacob knows how to control the pace of the game, everything goes through him on the ice. Very smart and mature, many expect him to be as good as Justin Faulk if not better. While he's stuck behind Faulk and Hanifin, Noah has been in trade rumors including the Matt Duchene one. This would be a great positive for Slavin's potential if he could see some PP time.
Projection: I'd project his to get anywhere between 35-45 points next year. This is a big task for a guy who some people have never heard of but considering he had 34 last year it won't be too difficult on an improved Canes team. I'd pick him with my 9th or 10th pick.
Name: Andrei Vasilevskiy | Age: 3 years
Salary: 3 years | $3.5M
Team: Tampa Bay Lightning
Overview: The New starting goaltender for the Lightning is out for revenge. After failing to make the Playoff last season, Vasilevskiy is the only goaltender left in Florida. Tampa traded away Ben Bishop to the Dallas Stars knowing they'd lose him for nothing in the Expansion Draft. Now after starting in 50 games last season and posting a .917 SV% and 2.61 GAA, Vasilevskiy is looking to take 2017-2018 by the horns and prove to people why he's suitable to carry the favorites to the Cup finals. Andre obviously isn't as big as Big Ben but at 6'3" Vasilevskiy stands independent. He's great at lateral movements but needs to work on his short side. However I really feel as if he improved his game a ton over the offseason and will be ready for next season.
Projection: I'd project Vasilevskiy to start in 65 games possibly and getting a .925 SV% and 2.30 GAA. If the Tampa Bay Lightning don't get injury written then select him with your 5th pick as some people will sleep on him.
Other Notables: Patrick Marleau, Jonathan Drouin, Tyson Jost, Adam Henrique, Josh Manson, Ivan Provorov, Brady Skjei, Mike Smith, Jimmy Howard.
Note: @TheHockeyPress is NOT Liable for any Trade Rumors or News reported in this Blog. Do not quote The Hockey Press for misinterpreting the original articles. Some info may have been misinterpreted, and changed for purposes. This Blog falls under the Fair Use Law. Do not Quote because all information was reported by the Writers/Articles listed.
GO READ @TheHockeyPress NEW " NHL Fantasy Hockey Rumors: 5 Bounce-Back Candidate " ARTICLE. Trust me it's worth it! Link: http://thehockeypress.ca/nhl-fantasy-hockey-rumors-5-bounce-back-candidates-for-2017-2018/
More to come, Stay tuned. What do you think? Interact with us & Stay Updated | Tweet us @TheHockeyPress | Share/Like our Page on FB [Blog Updates/Countdowns] Facebook: @TheHockeyPress | Find more Articles by us @IBN [More Trade Rumors and Fantasy Hockey!] | Check out Cutting Edge Cases for the BEST NHL, NFL, NBA, MLB, EPL Sports Designed Phone Cases. Amazing Products at a Low Price. Shop Now! | Check out our Partners on Twitter @HockeyCentraI & @BarSouthNCelly for the BEST Daily Dose of Hockey. Give them a Follow for NHL or Hockey Highlights, News, GIFS/Memes, and Polls. JUST DO IT! |