NHL DFS: DraftKings/FanDuel
Hey NHL Fantasy Hockey Players. Are you looking to RULE your league? Well then here are todays DraftKings & FanDuel NHL Optimal Lineups, and be sure to share The Hockey Press with ALL your friends, for Daily DraftKings, FanDuel, Yahoo, ESPN, NHL Fantasy Hockey News/Tips, and NHL Trade Rumors/News.
DraftKings NHL Rules:
Salary: $50.000M | Position: 2 Centers, 3 Wingers, 2 Defenseman, 1 Goalie, and 1 Utility.
Scoring Format: Goals = 3PTS, Assist = 2PTS, Shots on Goal = 0.5PTS, Blocked Shots = 0.5PTS, Short Handed Point Bonus = 0.5PTS, Shootout Goal = 0.2PTS, Hat Trick Bonus = 1.5PTS, Win = 3PTS, Save = 0.2PTS, Goals Against = -1PTS, Shoutout Bonus = 2PTS
Main Slate Lineups [Can be used for DraftKings & FanDuel]: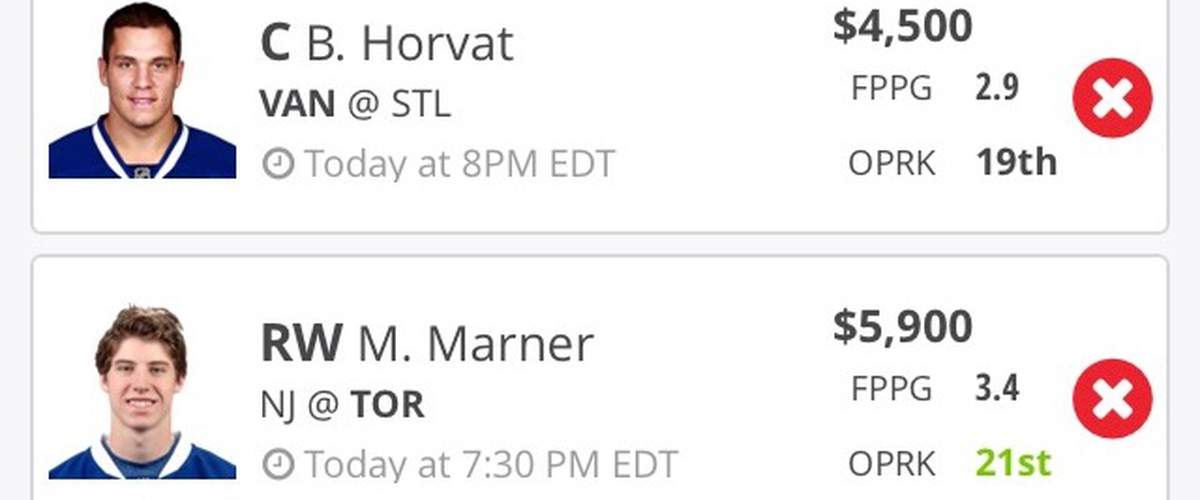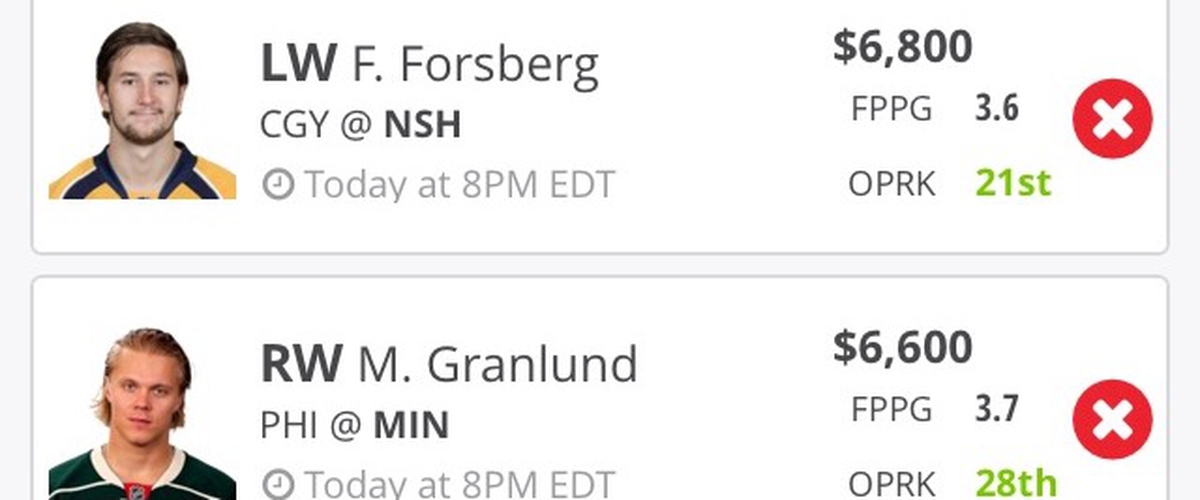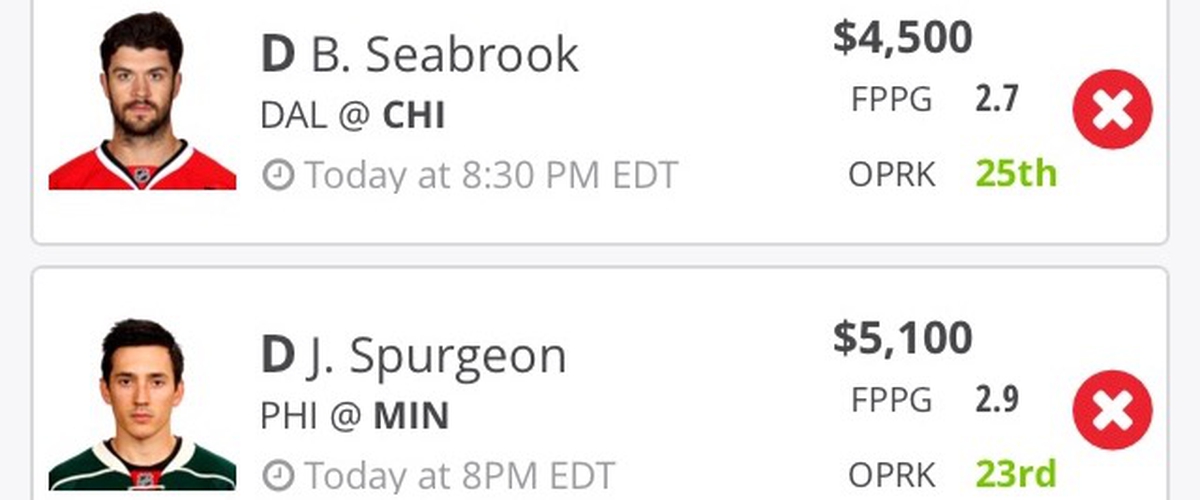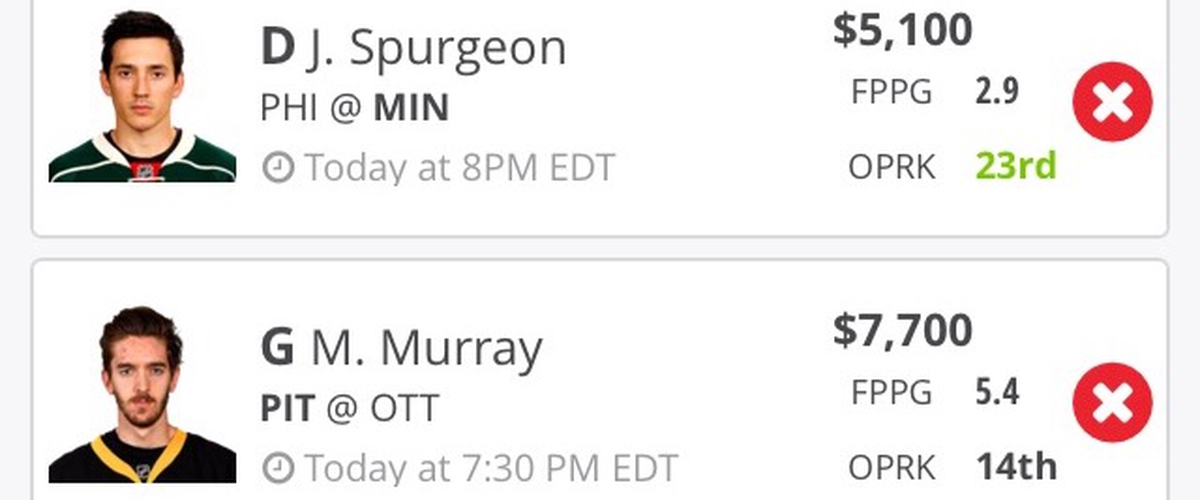 Note: This is just THP Opinion. We are not liable for any "non-cashing" lineups. These are meant to be for advice. Due to "DK Policy" we cut out the "Utility" & "1 of the C" Slots for you to decide. Good Luck! Tell us how you did on Twitter!
More to come, Stay tuned. What do you think? Interact with us & Stay Updated | Tweet us @TheHockeyPress | Share/Like our Page on FB [Blog Updates/Countdowns] Facebook: @TheHockeyPress | Check out Cutting Edge Cases for the BEST NHL, NFL, NBA, MLB, EPL Sports Designed Phone Cases. Amazing Products at a Low Price. Shop Now! Check Out/Contact our Partners ​@DF_MAFIA & @NHL_DraftKings, @SrirachaDFS, [Free or Cheap] on twitter and their websites, they provide the Best Daily NHL, NBA, MLB DraftKings/FanDuel Full Lineups for a minimal fee. Start winning CASH! | Check out our Partners on Twitter @HockeyCentraI & @BarSouthNCelly they are the BEST at Providing your Daily Dose of Hockey. If you're a fan of COOL NHL or just Hockey Highlights, Facts, News, Memes and accounts to make you laugh give them a follow. JUST DO IT! |
Anaheim Ducks, Arizona Coyotes, Boston Bruins, Buffalo Sabres, Calgary Flames, Carolina Hurricanes, Chicago Blackhawks, Colorado Avalanche, Columbus Blue Jackets, Dallas Stars, Detroit Red Wings, Edmonton Oilers, Florida Panthers, Los Angeles Kings, Minnesota Wild, Montreal Canadiens, Nashville Predators, New Jersey Devils, New York Islanders, New York Rangers, Ottawa Senators, Philadelphia Flyers, Pittsburgh Penguins, San Jose Sharks, St. Louis Blues, Tampa Bay Lightning, Toronto Maple Leafs, Vancouver Canucks, Washington Capitals, Winnipeg Jets, Habs, NHL, nhl trade rumors, DFS, DraftKings, FanDuel, Daily Fantasy Hockey Optimal Lineups/Advice/Strategy, NHL Fantasy Hockey, ESPN Fantasy, Yahoo Fantasy, nhl trade rumours, facebook nhl trade rumors, nhl Facebook, hf boards trade rumors, NHL Rumor Mill, NHL Stanley Cup Playoffs, Google nhl, NHL Draft, NHL Free Agency, 2016-2017 NHL Season,